Got fresh mint leaves?
There is a beekeeper and a gardener who works near us.  He and his wife planted vegetables this past summer.  I yearned for what was inside their garden–– chives, Italian parsley,voluptious tomatoes, arugula. He and his wife gave me good ideas on how to grow my garden outside.  I did well with his instructions growing tomatoes.  I also grew cilantro and basil.  Once in a while my friend and I like to hang out at his "garden center."  He and his wife had mint growing around their small beautiful garden.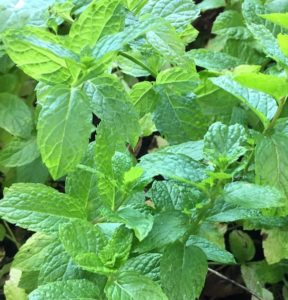 I love the smell of fresh mint leaves.  His wife told me that they love to make mint tea with the fresh leaves, especially in the winter.
That sounded good to me when she said that.  Since, then I been wanting to grow my own mint.
The gardener told me to wait till fall and he would give us some of his off shots  from his garden.  Yesterday he plucked tons of mint from the ground  and left it on our front chair.
When I woke up this morning, I was wondering what was that pile of roots with green ends doing sitting on my outside chair?
"The gardener left it for us to plant."
I heard mint is an easy plant to grow in the Pacific Northwest except don't plant it on the ground unless you want mint sprouting all over your yard.  That gave me the urge to plant this in my outdoor pot garden.
After sorting through the hardy roots of the plants, I grabbed a pot and planted a few mints outside.  However, I thought about all those cold and rainy winter days when I might not want to go outside at the darkness of 4 pm on a Saturday to pull off leaves from the mint plant.  That scenario––I repeat for those darky and non stop rainy days in the Pacific Northwest made me wanted to grow indoor herbs where I can just pull off the leaves from my kitchen area.
I placed the single stems in a clear glass and pulled off the unneeded leaves so that the roots can grow.  When the roots emerge, I will place next ot my basil.  The leaves I pulled off got dropped into cups to make mint tea.  There are few ways to make mint tea.  Here is the easiest way for me.
 Steps to make mint tea:
Get fresh mint leaves.
Wash them couple of times to remove any dirt and debris.
Place the washed leaves in a cup.
Boil water.
Pour hot water in the cup, but not boiling water.
Brew for five minutes.
You can see the color of water changing to a pale yellow and you should smell the aroma of the mint.
Enjoy, when cool enough to sip. My  mouth feels cool and refreshed. It is minty good.
Like alot of the other teas, mint tea is especially good after you had something sweet or by itself.  The fresh leaves in the cup makes me feel close to the plants that grew from the dirt.  I am sipping on my warm tea as I am writing.
Did you know that you can also make cold mint tea?  The cold version of mint I have had was Mojito, the spirit tea.   When summmer comes, my mint leaves would be full for warm and cool drinks.